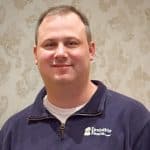 Warwick Office Manager
Anyone who has been to our Post Road Warwick Office over the last 14 + years has likely met Kirk.
Kirk oversees operations for all 3 offices from his seat in Warwick, along with his Airedale Henry.
Outside of the office Kirk enjoys spending time with his family, cooking, hiking and fishing…and is a diehard Jets fan.