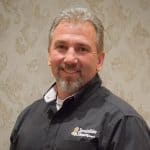 Operations Manager
Jim has been with Moriarty's for over 20 years…managing operations of our Stonington CT office.
No doubt many of our shoreline clients have worked with Jim and appreciate his commitment and knowledge.
Jim is a lifelong resident of Westerly RI and outside of work enjoys spending time with family and friends.
His favorite dog breed is the Labrador Retriever… a pleasure to work with, are eager to please, love to learn  and are always fun to be around…. generally very happy dogs.