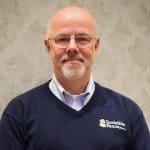 Brian started his Invisible Fence career in Philadelphia in 1990, working at the original IFB dealership.
Since then Brian has worn virtually every hat and has 1st hand experience with all aspects of the business.
Brian joined the Moriarty's team in 1999 and has been a valuable asset with providing our clients with design solutions as a Pet Consultant.
Brian lives in the south county area, enjoys  spending time with his family, oil painting and photography.
The standard poodle has been his breed favorite and cherished member of the family over the last 20 plus years.
You can find Brian working out of our N. Stonington, CT office.